Fund raise for the band without spending an extra dime!
We now have two ways to fund raise for the band simply by shopping.

Benefit-Mobile Gives While You Shop!

Ralphs is the last grocery store to give back to schools. Support us by supporting them!
See our NEW fundraising page for details on both options.
Booster Meeting schedule
All booster meetings are conducted monthly during the school year. Please check our band calendar for the next scheduled meeting. Booster meetings typically start at 7:00 PM in the TOHS Band Room. Note, no meeting is planned for the month of December.
Find the Right Music Instructor
The Thousand Oaks High School Instrumental Music Department encourages all music students to take individual private music instruction to ensure that they reach their full potential. We have many instructors in and around the Conejo Valley for every type of instrument. Check out our list of music instructors.
A Word About our Sponsors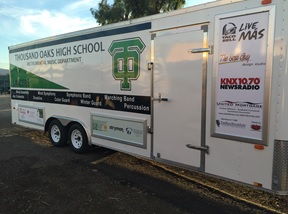 We have many sponsors this year. Their logos are posted on our equipment trailers and on our website. There is still room to add your logo. Be one of our sponsors and see your company's logo proudly displayed on the side of our equipment trailers. See our sponsors page for details.
In addition, we accept event sponsorships for those who just want to sponsor a single event. See our Events Sponsors page to see who sponsored us at one of our hosted events.
This is Your Brain.
This is Your Brain on Music.
National Public Radio recently aired a piece on how the brain is affected by music. The study itself is focused on how children whow grow up in poverty do not have the same neural development when compared to their most afluenet peers. The researchers found that neural development of these children could be improved through music training. It was quite an interesting study. Take a listen to "This is Your Brain. This is your Brain on Music."