AmazonSmile Program
hhShop Amazon? Just sign up for AmazonSmile and list Thousand hhOaks High School Band Boosters as your designated group. The Band wins each time you purchase.
What is AmazonSmile?
AmazonSmile is a simple and automatic way for you to support the Thousand Oaks High School Band every time you shop on Amazon. When you make an eligble purchase through smile.amazon.com, Amazon will donate 0.5% of the purchase price to the Band. To sign up simply enter Thousand Oaks High School Band Boosters on your first visit to AmazonSmile.
To learn more and to sign up visit AmazonSmile.
Booster Meeting schedule
All booster meetings are conducted monthly during the school year. Please check our band calendar for the next scheduled meeting. Booster meetings typically start at 7:00 PM in the TOHS Band Room.
A Word About our Sponsors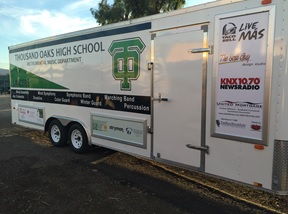 We have many sponsors this year. Their logos are posted on our equipment trailers and on our website. There is still room to add your logo. Be one of our sponsors and see your company's logo proudly displayed on the side of our equipment trailers. See our sponsors page for details.
In addition, we accept event sponsorships for those who just want to sponsor a single event. See our Events Sponsors page to see who sponsored us at one of our hosted events.