Band and Jazz Band Placement Auditions for Fall 2019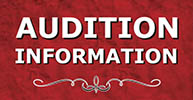 Thousand Oaks High School Band Program Audition Music can be found at the links below. Please read the introduction letter and follow ALL instructions.
CONCERT BAND AUDITIONS will take place on Tuesday, May 28th, 2019. Each audition will take about 10 minutes.
JAZZ BAND AUDITIONS are through submission of audio recordings. All recording are to be uploaded on or BEFORE 9 AM on May 20, 2019. DETAILED Instructions are on the Jazz Audition Letter (3 pages).
If for some reason, you have trouble downloading these instructions or the referenced materials, please contact the Band Office.
Jazz Band Audition Instructions and Materials
Concert Bands Audition Materials